Climbing Khan Tengri peak (7010m.) from the south face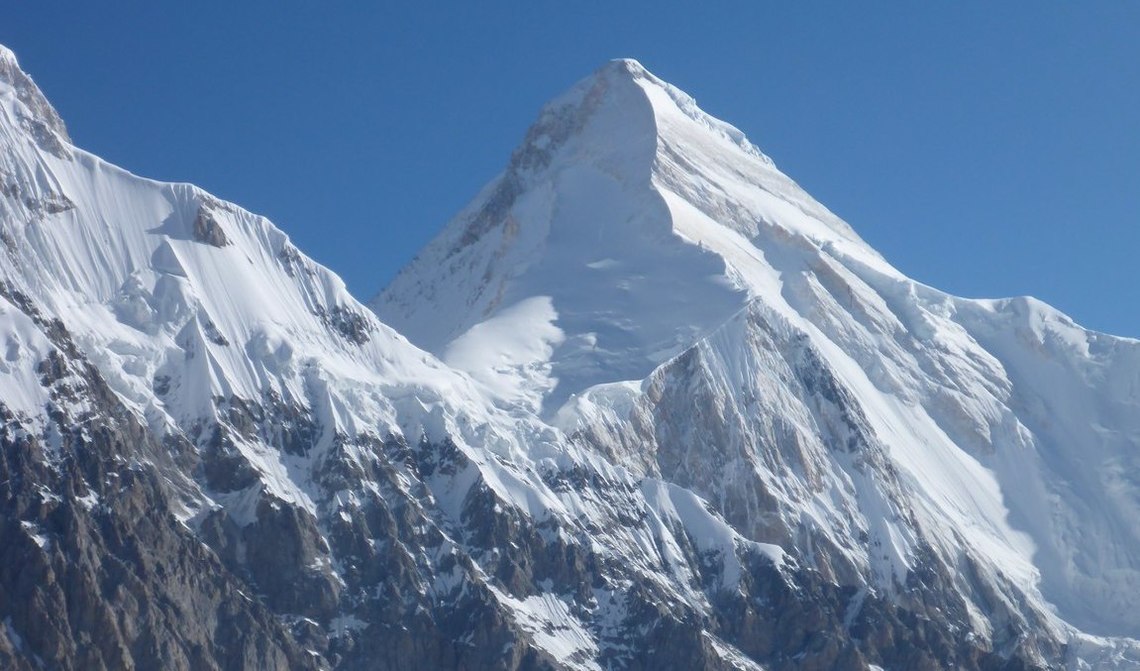 Dates: July 26 - August 13, 2019 
Group 1 guide for 5 participants 
1.Kolunin Ruslan (Karpinsk) - guide, mountaineering instructor, mountain rescuer, 8-fold climber to Lenin Peak! Was also on the Khan-Tengri, Communism, Korzhenevskaya. 
2. Fedorov Andrey (Perm) - guide, mountaineering instructor
3. Shanina Nadegda (Moscow) - participant. 
3. Kalashnikov Konstantin (St. Petersburg) - participant. 
4. Mindaugas Griunas (Vilnus) - participant. 
5. Shurigin Konstantin (Samara) - participant. 
6. Krupchatnikov Konstantin (Ekaterinburg) - participant.
Day 1 (26.07) Arrival of participants to Bishkek, accommodation at the hotel 
Day 2 (27.07) Transfer Bishkek - Karkara (460 km.) Overnight in the tents. Preparation for departure. 
Day 3 (28.07) Flight by helicopter to BL "Yu. Inylchek »(4000 m) 
Day 4 (29.07) Acclimatization and preparation for ascent 
Day 5 (30.07) Radial access to Camp No.1
Day 6 (31.07) Ascent to Camp No.1. 4200m.
Day 7 (01.08) Ascent to Camp No.2. 5300m.
Day 8 (02.08)  Ascent to Camp No.3. 5800m.
Day 9 (03.08) Descent to the Base Camp
Day 10 (04.08) Day of rest and acclimatization.
Day 11 (05.08) Ascent to Camp No.1. 4200m.
Day 12 (06.08) Ascent to Camp No.3. 5800m.
Day 13 (07.08) Ascent to Camp No.4. 6200 m.- 6400 m.
Day 14 (08.08) Climb to the summit of 7010 m and descend to the camp №3.
Day 15 (09.08) Descent into the BC
Day 16 (10.08) A spare day in case of bad weather
Day 17 (11.08) Helicopter flight to BC "Karkara" and transfer to Bishkek. Hotel accommodation
Day 18 (12.08) Day in Bishkek, purchase of souvenirs a day of rest
Day 19 (13.08) Departure from Bishkek 
- meeting / seeing off at the airport or at the railway station in Bishkek 
- transfers airport / railway station Bishkek - hotel - airport / railway station 
- Transfers Bishkek - heliport and back helicopter 
- Transfer to BL and back (unlimited cargo transportation) 
- accommodation in a hotel in Bishkek with breakfast and in the camp "Karkara" with a full board (no more than 4 nights!) 
- lunches on the way Bishkek - Karkara - Bishkek 
- accommodation and meals (3 times a day) in the BC "South Inylchek" 
- high ration (we purchase products together, taking into account the preferences of participants) 
- free use of a hot shower and sauna, toilet, storage room in the BC "South Inylchek" 
- Guide services for the entire climbing period (1 guide 5 participants  ) 
- registration of the group in the rescue squad 
- an environmental fee for living in camp territory 
- use of long-distance radio communication rent of radio stations during the ascent 
- services for the exchange of air tickets and train tickets 
- pass to the border zone 
- registration in the territory of Kyrgyzstan (if necessary)
The price does not include:
- Air or train tickets to Bishkek and back 
- Meals in Bishkek, except breakfast in the hotel. 
- Personal equipment (see list below) 
- Group equipment - Tents, burners, ropes, pans and shovel for snow - (we are equipped according to the availability of participants, the rest we take in hire).
- Excursions and souvenirs 
- Accommodation for more than 4 days in Bishkek 
The company that provides services in the BC "South Inylchek" is AK-SAI TRAVEL, they also provide transportation in the case of NS, so there are requirements for the formulation of insurance policies.
Requirements for insurance policies:
1) THE GLOBAL VOYAGER SHOULD NOT BE AN ASSISTANT OF THE INSURANCE 
2) the sum of the insurance policy is not less than 30000 $ 
3) in the field "occupation" (or "sports") must be indicated "ALPINISM" 
4) host country Kyrgyzstan (Kyrgyzstan) 
5) the dates of the insurance policy must coincide with the dates of stay in Kyrgyzstan 
6) the insurance policy must cover the "transportation of the injured" (specify this when formulating the policy) 
7) trustworthy insurance companies: - RESO guarantee - Surgutneftegaz - Uralsib - Sogaz - Soglasie - Yugoria
Features of the tour:
During the ascent we live in tents, we prepare ourselves on the burners centrally. The climb schedule is approximate and can vary depending on the group's well-being and weather. 
Attention! After acclimatization you can use the service "climbing with oxygen"   The price of kit: 1 cylinder + reducer + 1 oxygenmask -1000$ per person
Payment: foreign citizens do not need prepayment!
100% of payment is made ONLY in cash dollars upon arrival in Bishkek. In Bishkek city, there is no possibility to withdraw cash from credit cards
- a mug, a bowl, a spoon, a knife; 
- thermos for tea;- comfort sleeping bag -30С; 
- Touristic mat;- a puff with a hood and a windproof jacket from "gortex"; 
- "Polar" jacket and pants; 
- Boots plastic or high-altitude; 
- a sufficient number of socks; 
- warm gloves, mittens, mittens "tops"; 
- cap, "balaclava" or mask  from wind and frost; 
- safety system, 4 carbines, zhumar, launching device, helmet; 
- sunglasses from the sun climbing (skiing); 
- backpack for equipment 60-90 liters; 
- hygienic lipstick, sunscreen; 
- a hygienic package (toilet paper, toothbrush, etc.); 
- an individual first-aid kit (only if there are any of their diseases); 
Photos from our trip to Khan-Tengri Peak in August 2016,2017, see
here
Video about our ascent to the peak of Khan-Tengri in 2016 see below
Хан Тенгри 2016 Трейлер. Экспедиция к пику Хан Тенгри 7010 м. на Тянь Шане
Обработка видео...