Climbing Aragats (4090m.) and Azhdahak (3597m.) Tour in Armenia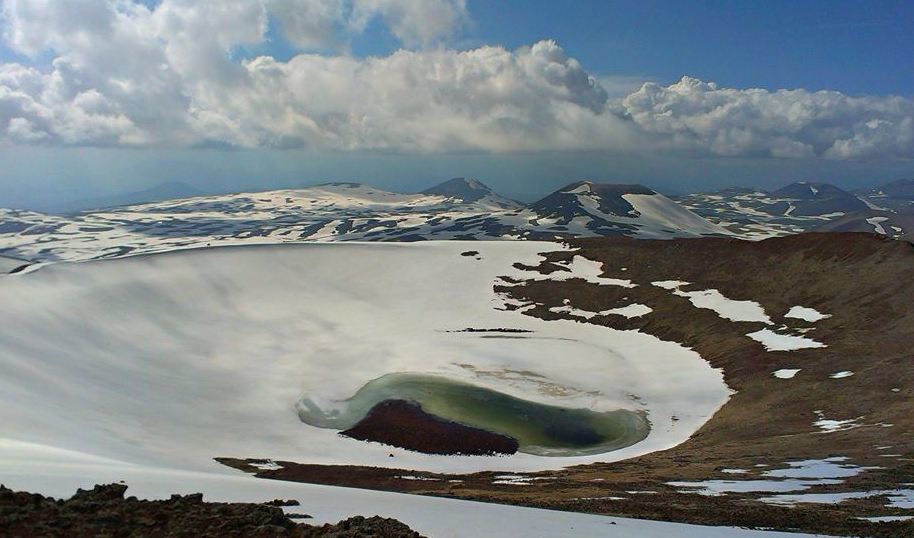 1) Kolunin Ruslan (Ekaterinburg) - guide-instructor, rescue officer. 
08.06. Departure from Yekaterinburg through Moscow to Yerevan. Hotel accommodation. Walk around the city. 
09.06 Transfer to Lake Kari and trekking to the southern peak of Aragats. With good weather on this day, we will immediately reach one of the peaks of Aragats and we will be able to admire the huge crater of the stratovolcano. Night in the tent. 
10.06 Ascent to the Western or Northern peak of Aragats (4090 m). On this day, the ascent will be early, we will have a journey in 4-5 hours to reach the main peak of Aragats and by lunch we must return to the tents, collect things and go to Lake Kari, on the shore of which you can taste "Khash" - a national dish. In the evening return to Yerevan. Overnight at the hotel.  
11.06 Day of rest and excursions in Yerevan. After breakfast we go to see the Garni temple 30 min drive from Yerevan. After lunch we buy food and prepare for the ascent to Azhdahak. Overnight at the hotel. 
12.06 Transfer from Yerevan to the village of Sebaberd and further trekking to the lake Akna 3200 m. We spend the night on the shore of the lake. Around this time there are snowfields, but the lake itself is free of ice. For those who wish, you can organize a swimming in the lake. Night in tents. 
13.06 Ascent to Azhdahak 3597 m. And descent to the mountain road, on the other side of the mountain, from where we go to jeeps to Yerevan. Festive dinner, overnight at the hotel in Yerevan. 
- All transfers in the program 
- Instructor's services for the whole period of travel 
- Meeting and seeing off at Yerevan airport 
- Accommodation in cities in a hotel, in a track in tents. 
The price does not include:
- Air flight to Yerevan and back. 
- Meals (in the cities we eat in the cafe, on the mountain we buy food centrally in stores, and we also cook) 
- Excursions and souvenirs. 
Features of the tour:
Throughout the round we use private transport. Air temperature in the end of May in cities in the daytime up to +25 degrees. In the mountains on the ascent can drop to -10 degrees. In late May, there is a transition from spring to summer - this is the most beautiful time for photographers and lovers of landscapes. The mountains are covered with snow, and the grass is green around!
List of personal equipment 
1. Backpack 40-60 liters. 
2. Bag for carrying things 
3. Storm suit (suit from the wind with a hood) 
6. A sports suit (like spare clothes) 
7. Points from the sun or a mask 
12. Set of thermal underwear 
16. The cap is warm (windproof) 
17. Baseball cap (bondage) 
21.Individual aid kit (only special drugs) 
22. Headlamp flashlight, batteries 
25. Fotocamera, batteries 
Photos from our trip to Aragats in 2017 can be viewed
here
The film on our trip to Armenia and Iran in 2017 was shot by the participant of the expedition by Sergei Porodnov, see below