Climbing Kazbek (5033m.) with Georgia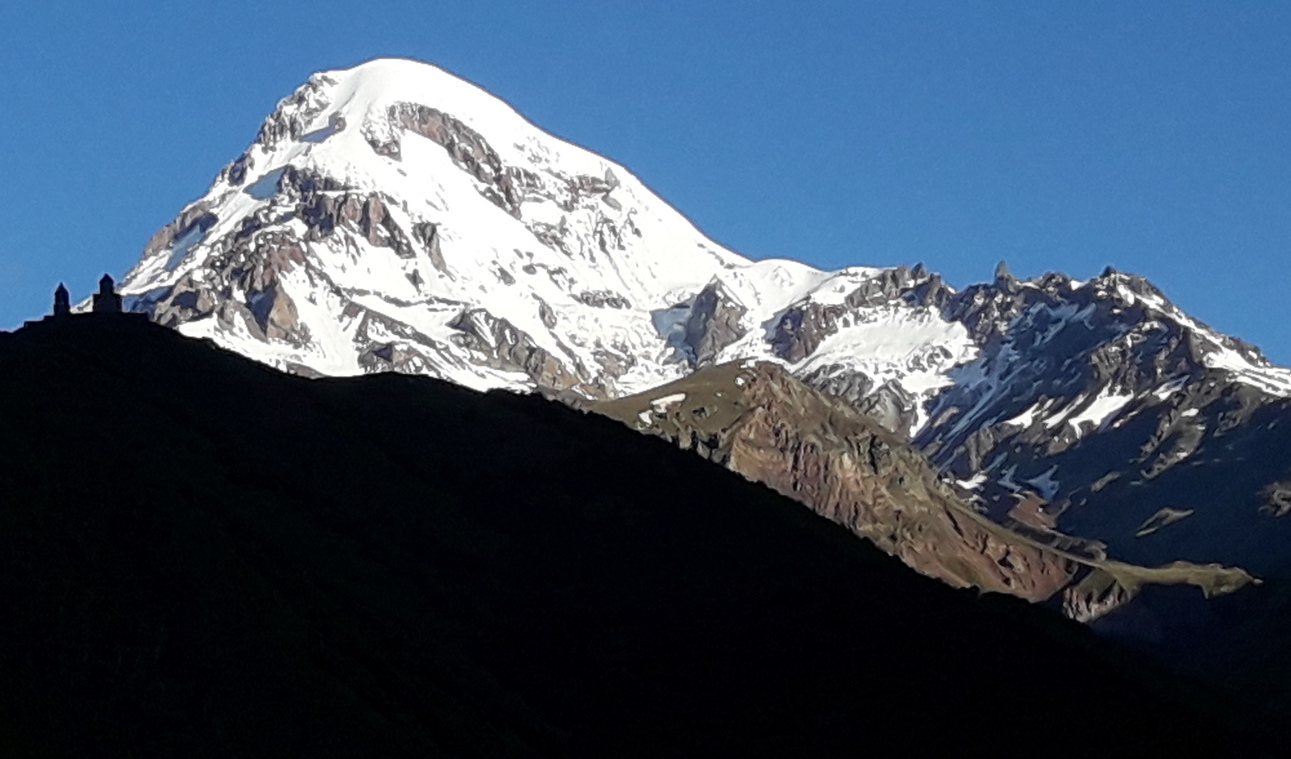 1 Kolunin Ruslan (Ekaterinburg) - guide-instructor 
Day 1 (14.06)
Arrival from Armenia
or arrival of participants to Tbilisi from Russia, meeting. Overnight at hotel in Tbilisi. 
Day 2 (15.06) Purchase of products and moving to Kazbegi (1700 m.) Overnight at the hostel. 
Day 3 (16.06) The beginning of the ascent to Kazbek. Early in the morning we drive to the Holy Trinity Church and from there walk through the Saberce Pass (3000 m) to the "Green Hotel" Night in tents. at an altitude of 2950 m. 
Day 4 (17.06) Transfer to Base Camp No. 1 at 3,700 m to the weather station. Night in tents in Camp No.1. If there are seats and for additional payment, you can stay in a weather station. We send cargo to the meteorological station by horse. 
Day 5 (18.06) Acclimatization and rest day. We climb to the Kazbek pass to the altitude of 4200m., We carry out snow and ice exercises and go down to the tents. Night in tents near a weather station 
Day 6 (19.06) The Day of Assault of Kazbek (5050 m.) Early Ascent. At the edge of the glacier, we dress cats and contact, then the climb goes along a closed glacier. In the upper part, a rope may be required to climb the apex dome. The walk takes 7-8 hours. Descent to the weather station. Night in tents 
Day 7 (20.06) Descent to the Kazbegi. Transfer to Tbilisi. A festive dinner, the purchase of souvenirs. Night at the hotel 
Day 8 (21.06) Departure of participants home
- All transfers under the Tbilisi-Kazbek-Tbilisi program.
- Accommodation in a hotel in Tbilisi for 2 nights. 
- Payment for places under the tents on the ascent. 
- Accommodation in the village. Kazbegi in the hostel 1 night 
- Guide services for the entire climbing period (1 guide 5-7 people) 
- an environmental fee for living in camp territory 
- Cargo transportation by horses to the weather station 
The price does not include:
- Air tickets to and from Tbilisi 
- Meals in Tbilisi and Kazbegi.
- High-altitude food for climbing and gas (we purchase centrally with participants) 
- Personal equipment (see list below) 
- Group equipment (we are equipped according to the availability of participants, the rest we take in hire). 
- Excursions and souvenirs 
- Accommodation more than 2 days in Tbilisi 
Features of the tour:
during the ascent we live in tents, we prepare ourselves on the burners centrally. The climb schedule is approximate and can vary depending on the group's well-being and weather.
- a mug, a bowl, a spoon, a knife; 
- sleeping bag comfort -10С; 
- a puff with a hood and a windproof jacket from "gortex"; 
- "Polar" jacket and pants; 
- Boots plastic or high-altitude; 
- a sufficient number of socks; 
- warm gloves, mittens, mittens "tops"; 
- cap, "balaclava" or mask 
-safety system , 2 carbines, zhumar, trigger, slings; 
- sunglasses from the sun climbing (skiing); 
- backpack for equipment 60-90 liters; 
- hygienic lipstick, sunscreen; 
- a hygienic package (toilet paper, toothbrush, etc.); 
- an individual first-aid kit (only if there are any of their diseases);  
Photos from our trip to Kazbek in the summer of 2015 look
here